About Us
We Can't Afford To Be Less Than The Best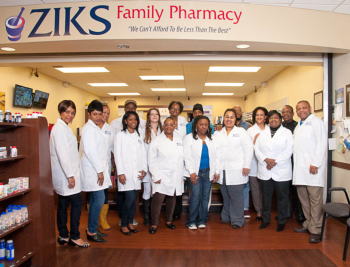 Welcome to Our Pharmacy
Welcome to ZIKS Family Pharmacy & Home Medical Equipment. Founded by our pharmacists Nnodum and Nnenna Iheme in 2009 after chain pharmacy stores closed their doors to the residents of West Dayton, ZIKS covers a critical healthcare need for Metro Dayton. The greatest deficit that Nnodum and Nnenna recognized was that the elderly population in West Dayton could not fill medication and home medical equipment prescriptions in their own community. Too often, senior residents cannot drive, do not have transportation—or they must take the bus.
When Idotha "Bootsie" Neal, and the Wright Dunbar Board invited the Iheme's to lend their pharmacy expertise in the Dayton community, the dynamic team did not hesitate to jump at the opportunity. As a result, ZIKS has become an anchor not only for West Dayton, but a health services gemstone for the entire Greater Dayton area.
We take great pride in offering Pharmacy and Home Medical Equipment services under one roof! Our mantra says it all: ZIKS—Your One-Stop Shop for EVERYTHING MEDICAL!
We look forward to working with you, your doctor, your family—and all caregivers to ensure that you receive the highest level of medical care. At ZIKS, our goal is to advance optimal health outcomes so that you live a healthier and happier life.
Whether a member of the Pharmacy Team, or DME Team, all staff members are highly trained. We want you to notice our personal, first-name approach to customer service. Highest level health care—highest level customer service—that's an inherent part of our Pledge to the Community.
Our Staff
There is a reason why ZIKS Family Pharmacy has been around for years. Obviously, the reason lies in our Staff. Because we are a company serving the needs of people, we always pay close attention to keeping the human-factor in our services.
Our staff of pharmacists and pharmacy technicians has your best interest at heart. We help you save with your pharmacy purchases and make the most of your insurance coverage. For your health to be preserved, you don't have to break your budget. At ZIKS Family Pharmacy, you can consult with our pharmacists about your health concerns and if needed, we coordinate with your physician to ensure that the medications we dispense are accurate to your health management plan.
To meet our staff in person, please drop by ZIKS Family Pharmacy. Or contact your nearest ZIKS to schedule an appointment.